Progurt
"The World's Most Powerful Probiotic"
Make your own live probiotic yogurt at home so you KNOW it's fresh!


---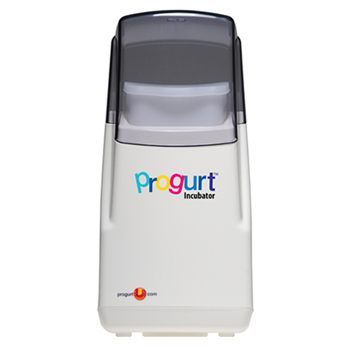 PRO01- The Progurt Incubator

This is the first probiotic available which is made from human strains instead of animal strains. The probiotic yogurts from the supermarket are made from ANIMAL strains.
PROBIOTICS :
* Decrease incidence of digestive ailments
* Improves digestive functions
* Improves bowel function
* Decrease incidence of stomach ailments
* Increase nutritional absorption
* Improve appetite
* Decrease incidence of bloating/heartburn
* Decrease incidence of certain infections
* Improve liver function
* Improve circulatory function
* Decrease constipation and diarrhea
* Improve joint and muscle function
* Improve resistance to allergies
* Improve sleep function


Progurt contains over 1 trillion CFU of probiotic per liter. The strains in Progurt are made from Human Probiotic Isolate, the same as those found in healthy human digestive systems. This makes them much more effective becasue they will survive better and are more adapted to the human diet.

Progurt is made from all natural ingredients and is gluten-free.

With Progurt you control the taste and texture so you can make your yogurt exactley how you like it.



How does it work?
The Progurt incubator is silent, energy efficient and easy to use. You simply plug it in, fill with whole milk, add 1 Progurt packet, mix and let incubate for 12-14 hours. It is then ready to refrigerate and eat.
---
---