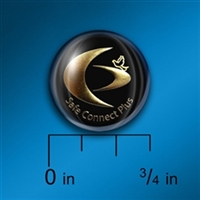 Our Cell Phone Shields™ have been encoded and embedded with a broad field of over 230+ resonating frequencies that are Harmonious & Beneficial to the body. They are made using a non toxic plant based resin and nano crystalline technology, which is infused with information (like a computer chip) using our proprietary Bio Resonance Technology. By transforming chaotic frequencies from electrical and wireless fields into beneficial frequencies, you are able to enjoy the convenience of wireless technology without bringing harm & chaos to yourself or to those around you. The Cell Phone Shields™ can also be attached to your, iPod, hair dryer, and other small appliances that are emitting these dangerous fields of energy. Once attached, these shields do not effect the operation of the phone, blow dryer, or small appliances. By reformatting the micro/radio waves the shields energetically balance the body when carried next to it or used close to the brain!
Dimensions: Approximate size: 3/4 inches in diameter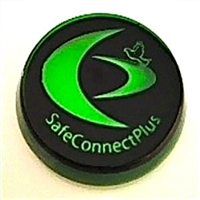 The Smart Guard™ is a Shield that is applied to any electric/water or gas box that contains a Smart Meter. The Smart Guard Shield™ is made from a non-toxic plant based resin using nano crystalline technology and is embedded & encoded with over 230+ resonant frequencies that harmonize the hazardous Radio Frequencies which are pulsating from the Smart Meter. The Smart Guard Shield™ is approx. 1¼ inches round and ¼ of inch in height which makes it compact and very simple to attach to any smart meter with its small Velcro dot. We recommend that you attach the Shield underneath the outside electric box where the smart meter is located. We cannot guarantee this product against extreme weather conditions so attaching it to a sheltered area of the meter is highly recommended.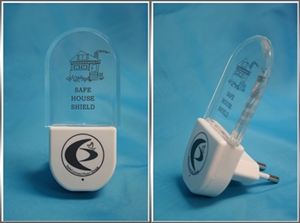 Our Safe Connect Plus+® House Shields™ soften and reformat the electrical emissions in your home or office by utilizing 230+ embedded & encoded Harmonic Resonant frequencies. No longer be negatively affected by your household appliances and chaotic electrical energy. The House Shield™ thoroughly transforms the harmful electrical currents of your home or office into a natural and beneficial subtle field of energy. This energy field includes our proprietary formula of resonating frequencies that are vital to your health and well being, keeping you balanced and grounded. Simply plug our House Shield™ into any outlet and it will transform your entire home or office into a more balanced and beneficial space. One House Shield™ covers up to a 2000 sq ft. area per level. Available for both U.S. and European outlets. (110v & 220v) A travel adapter or transformer may be used for other countries.

Dimensions: approximately 4"H x 1 1/2" W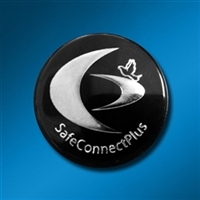 Maintain the integrity of your Ultra Slim Laptop/iPad wireless devices with our "Slim Line" Laptop/Technology Shields™. These Slim and Sleek Shields will enhance & compliment the look of any laptop computer without compromising the effectiveness of our technology. Created from a non toxic plant based resin, using Nano Crystalline Technology, embedded and encoded with over 230+ resonant frequencies, the Laptop/Technology Shield™ transforms hazardous micro/radio fields into a powerful balancing field of energy around you! Attach these Shields to your Laptops, Routers, Microwaves, iPads and other wireless and electrical devices & appliances. These Shields are applied to your wireless devices by using a two-sided tape for easy & secure attachment. For additional benefit, apply these to water dispensers to encode and enhance your water!