Our goal at Sunwarrior is to transform the health of the planet one warrior at a time. We started with our award winning raw vegan superfood protein, the ultimate anti-aging protein designed for athletes, body builders, and health enthusiasts who want to lose fat, build muscle mass and be extremely healthy and fit. Now, we have discovered the highest vibration greens product in the world! Sunwarrior Ormus SuperGreens are grown organically in a pristine ancient sea bed located in a volcanic region of Utah and Arizona. The soil is loaded with platinum, gold, silver and ormus trace minerals that give the greens a magnetic property.

Sunwarrior Ormus Supergreens are grown and produced in the US.

Sunwarrior Ormus Supergreens is grown in a pristine ancient sea bed in a volcanic region of Utah and Arizona. The soil is loaded with platinum, gold, silver, and ORMUS trace minerals giving the greens a magnetic property which increases the vibration and frequency of those who consume it.

Sunwarrior Ormus Supergreens are certified 100% organic, Non-GMO, & Gluten Free.

Sunwarrior Ormus Supergreens uses a pattented cold-drying process which protects the heat-sensitive bioactive constituents and phyto-nutrients, thereby making a superior raw green super food drink that is both alive and bio-available.

Sunwarrior Ormus Supergreens are produced using an eco-friendly process having a low carbon footprint and is thereby much easier on the environment. Additionally, the special bag guarantees the highest level of freshness obtainable.

Ingredients:
Oat Grass - We use oat grass in our formula because it picks up the highest amounts of Noble Elements and ormus from the soil. Oat grass is used traditionally to help build sexual stamina. Oat grass (Avena Sativa) has a relaxing and stimulating action that nourishes and strengthens the nervous system.Barley and Wheat Grass- Barley and wheat grass are both loaded with high trace minerals, calcium, iron, all essential amino acids, vitamin C, the flavonoids, and a number of enzymes and minerals. They also contain superoxide dismutase (SOD), a powerful antioxidant enzyme that protects the cells against toxic free radicals. All the cereal grasses pick up ormus from the soil.
Alfalfa - Alfalfa is a plant which sends its roots down twenty to thirty feet into the ground and brings up the minerals that are not available on the surface. For this reason, the Arabic word Alfalfa means "father of plants." Alfalfa is rich in vitamins, minerals and other nutrients that play a vital role in the strength and growth of our bones and in the maintenance of a healthy body. It contains protein and vitamin A, vitamin B1, vitamin B6, vitamin C, vitamin E, and vitamin K. It also contains calcium, potassium, carotene, iron, and zinc.
Yucca - Yucca are desert plants that are part of the Agave family. We wild craft our own wild Yucca plants in the high desert in a way that promotes growth for the other plants. Yucca extracts may have anti-arthritic and anti-inflammatory effects including anti-fungal and anti- protozoal activities. Yucca is also a rich source of phenolics, including resveratrol and a number of other stilbenes (yuccaols A, B, C, D and E). Yucca extracts and its phenolics are also anti-oxidants and free-radical scavengers.
Parsley - Parsley is perhaps one of the most commonly used but therapeutically under-rated of herbs. Parsley is very high in bio available vitamin C and is a good source of manganese, calcium and potassium. It also contains flavonoids that act as antioxidants. Parsley is also rich in vitamin A, well-known for its effects on vision, plus can mitigate risks of atherosclerosis and diabetes. Parsley cleanses the blood, dissolves sticky deposits in veins, maintains elasticity of blood vessels, facilitates removal of moderately sized kidney and gallstones, treats deafness and ear infections, and benefits the sexual system. Parsley helps with bad breath and is one of the most important herbs for providing vitamins to the body. It's like an immune-enhancing multi-vitamin and mineral complex in green plant form.
Spinach - Spinach is a rich source of protein, minerals, vitamins, pigments and phytonutrients. Health benefits of spinach are due to presence of vitamins, pigments, phytonutrients and minerals like potassium, manganese, zinc, magnesium, iron and calcium. Spinach is a source of vitamins like folate, niacin, vitamin A, B6, C and traces of the rest of the vitamins. Other important elements, including thiamine and riboflavin, that are used in various reactions in our body are also found in spinach. Spinach is rich in pigments like beta carotene, lutein and xanthene and chlorophyllin etc.
Probiotic Culture - We use a "live active culture" process with part of our cereal greens. This is different from other companies who just mix Probiotics into their greens. Traditional Probiotic foods include: yogurt, kefir, miso, and sauerkrauts and are very good for the body and digestive tract. Science has learned that cultured foods are easy to digest and create life-enhancing nutrients.
Peppermint makes our greens easy to drink and very palatable. Peppermint is also an age-old herbal medicine that has been used to treat a wide range of abdominal woes, from flatulence to stomach cancer to gallbladder disease. Several studies have shown that peppermint seems to be fairly effective at relieving irritable bowel syndrome (IBS), a collection of symptoms that includes abdominal cramping and pain, bloating, constipation, and diarrhea. Peppermint also has anti-parasitic properties and has been used in folk remedies to get rid of parasites.
Whole Leaf Stevia - We use the whole leaf stevia herb which has been used for centuries in South America to aid diabetics and hypoglycemics. Research has shown that a whole leaf stevia herb has a regulating effect on the pancreas and helps stabilize blood sugar levels. Herbal stevia is therefore useful to people with diabetes, hypoglycemia, and Candidiasis. Other traditional uses of herbal stevia are to lower elevated blood pressure (hypertension), as a digestive aid that also reduces gas and stomach acidity, and for obesity. The herb acts as general tonic which increases energy levels and mental acuity. The stevia herb has also been shown to inhibit the growth and reproduction of bacteria that cause gum disease and tooth decay, making it an excellent addition for the teeth and gums.

Liquid Light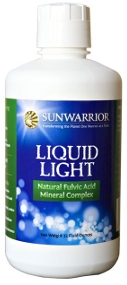 Our product comes from an ancient petrified plant deposit in rural part of Utah. Competing brands are in New Mexico near Los Alamos and Sandia labs- site of Nuclear testing and suspect of radiation fall out.
Liquid Light is a plant based fulvic acid mineral complex created by nature and cold process extracted into a liquid solution that is the strongest natural chelating agent within living structures.
In Nature, Liquid Light provides some of the major and trace elements of nutrition but plays a role much more important than that. Liquid Light aids in the absorption and assimilation of all other nutrients it comes in contact with through the chelation process.
Liquid Light is a powerful natural electrolyte contributing to both electrical and chemical balance within the cell.
It contains all of the trace elements found in living systems.
Its a super transporter carrying nutrients to the cells.
It helps neutralize toxins and pollutants from the body.
It is nature's most powerful heavy metal chelator of heavy metals. Liquid Light delivers essential minerals while also eliminating toxic heavy metals like lead, cadmium, and mercury.
It supports enzyme reactions thus improves digestion and assimilation.
It is nature's finest electrolytes.
It neutralizes acidity in the body.
Increases cell permeability.
Increases endurance and stamina.
Gives a sense of well being (because of the mineral nourishment of the cells).
Take with other supplements to enhance utilization.
Take before and after workouts.
Goes great in smoothies, juice or water.
(Note, the product is in a plastic bottle for easy handling. The fulvic/mineral complex neutralizes any possible toxic affect.)
Helps remove toxins in the body.
Immune Shield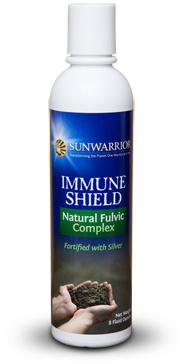 Immune Shield is a natural Fulvic acid mineral complex fortified with silver ions. The Fulvic acid /mineral complex is a catalyst and chelater which delivers trace minerals, various nutrients, and electrolytes freely to all of the cells and body fluids. Our Fulvic acid mineral complex molecules have been fortified with silver ions. The presence of small ions of silver placed by a proprietary technology within these fulvic mineral complex molecules provides a revolutionary form of silver to assist the immune system. These molecules provide a new and more efficient delivery system to safely provide silver ions in higher amounts (over 25 ppm) without the danger of building up excessive amounts of silver particles within the body tissues that could could result in argyria. This fortified fulvic molecule takes the potential of a solution containing silver ions to a new level. It provides:
Delivery of silver ions within a carrier molecule that totally dissolves in water and is easily received and digested.
Delivery of silver ions within a carrier molecule (The Fulvic Acid Mineral Complex) that can penetrate all body fluids
and all cells and tissues of the body. This provides for total body immune system support and protection.
It also provides silver ion protection within the cells of the body where the benefits of silver ions can be experienced
in combating the threat of viruses.
It is complexed inside the fulvic acid molecule in a balance that allows for the full dynamic potential of the fortified
fulvic complex to reach its maximum beneficial levels of performance and protection.