HappyLight Deluxe
HappyLight 6000
Enhance Your Exercise or Weight Loss Program

HappyLight's® Natural Spectrum® Daylight helps reduce appetite, burn more body fat and elevate energy levels, which increases the success of your weight loss and exercise programs.
Beat the "Winter Blues" & the Effects of Seasonal Change
The HappyLight® provides up to 10,000 LUX of Natural Spectrum® Daylight to combat the effects of seasonal change, "Winter Blues", shift work, jet lag,malaise and fatigue.
Improve Mood and Energy
Natural Spectrum Daylight cues the body's natural energy enhancers, improving mood, energy levels and creating an overall sense of well-being.
Regain Focus, Concentration & Productivity
Balanced Natural Spectrum Daylight gently helps the body recalibrate and stabilize, reducing fatigue and lethargy, improving focus and concentration.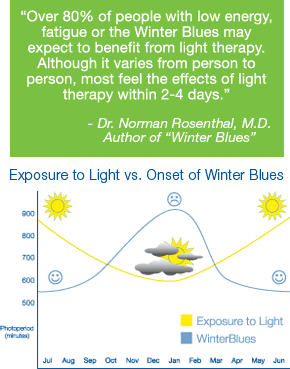 Verilux HappyLight Deluxe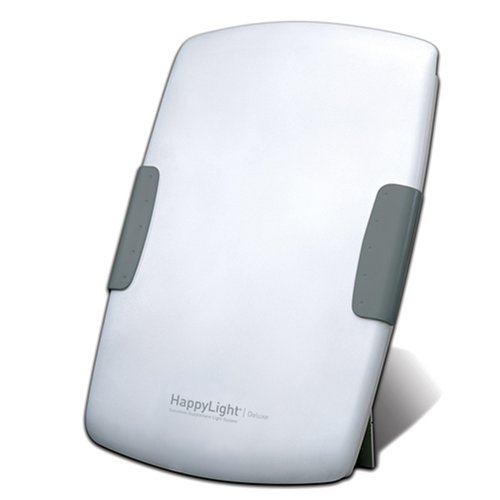 LIT46
The Verilux HappyLight® Deluxe features:
Up to 10,000 LUX of Natural Spectrum® daylight
Electronic ballast and Flicker Elimination Technology™ assures no-buzz operation and instant-on, flicker-free illumination
Table-top stand and space saving wall mount option
On-off switch
One year limited warranty
30 day money back guarantee
Dimensions: 19" H x 13.375" W x 3.25" D
Weight: 6.8 lbs
UL listed in United States and Canada
Verilux HappyLight 6000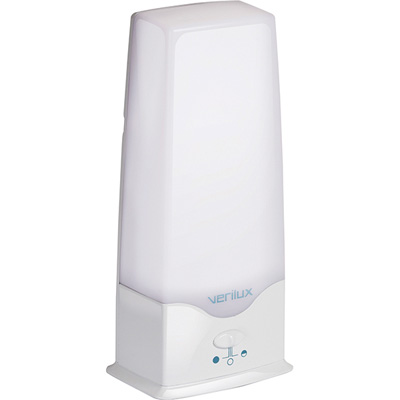 The HappyLight® 6000 features:
Up to 6,000 LUX of Natural Spectrum® daylight lifts spirits, sharpens concentration and improves energy levels
Helps recalibrate and normalize Circadian Rhythms for a healthy night's sleep
Emulates natural sunshine to improve mood and well-being
Sleek, space-saving design is ideal for home, office or dorm room
Energy efficient bulb uses only 36 Watts to produce 300 Watts of Natural spectrum light
One year limited warranty
30 day money back guarantee
Dimensions: 12" H x 3.9" W x 5.6" D
Weight: 2 lbs
UL listed in United States and Canada