About The Author
Stanley Burroughs, now deceased, developed a successful system which has already
revolutionized the entire understanding of the art of healing.
It is a brilliant and fresh approach to healing in its simplest form.
He has searched tirelessly, throughout the many years, to find these natural laws of healing.
He has simplified and clarified them for fast and accurate results. The work is easy to
understand and use as an aid to find complete freedom and release from any one
all kinds of illnesses regardless of by what name they may be called.
These techniques and principles do not depend on faith, belief or special religious rituals.
This system proves, by actual results, that there is absolutely no need for further
expenditures of millions of dollars for useless and time consuming research to find
the cause and correction of any present or future variety of diseases.
The complete answers are already here.
The professions and the public alike are strongly invited to make any and all possible
tests of the work. If this is done honestly and with the accurate and outstanding
as the highest form of the healing arts.
It is a system of automatic precision which can eliminate the many human errors which
can and do occur with the present awkward, complicated and ever more costly methods.
This system accepts no limitations as to the ability of the body to heal itself.

---
---

STORIES THE FEET CAN TELL THRU
REFLEXOLOGY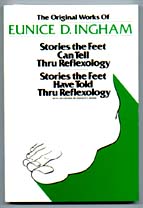 Author----Eunice D. Ingham
This publication contains works of Eunice D. Ingham (Stopfel), developer of the science of Reflexology. The original text is reprinted with some clarifying revisions by Dwight C. Byers, nephew of Eunice Ingham. The purpose of this combined version is to provide readers with one easy-to-follow reference to the ORIGINAL INGHAM METHOD by making all the information of the two books accessible under one cover.
IN CONCLUSION
This work as I am presenting it in my books and seminars, has grown to a high state of recognition and acceptance at a rate beyond what any of you realize unless permitted to read the letters we receive daily from coast to coast and from many foreign countries to which my books have been mailed. May we continue to offer this special contribution to the public (the laymen and the profession) for their health and well being, not as a cure but as a valuable asset to avenues of relief. We know the practice of this Science is no way deleterious to the human body.
REFLEXOLOGY is a science which deals with the principle that there are reflexes in the feet relative to each and every organ and all parts of the body. Stimulating these reflexes problems can help many health problems in a natural way, just like preventive maintenance.
---
---
0²XYGEN THERAPIES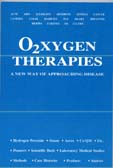 Author----Ed Mc Cabe
The New Way Of Approaching Disease
AIDS? CANCER? HEART DISEASE? ARTHRITIS? ACNE? ALLERGIES? ASTHMA? CANDIDA? COLDS? DIABETES? FLU? HEART? HEPATITIS? HERPES? LUKEMIA? MS? ULCERS?
**HYDROGEN PEROXIDE **OZONE **AEROX **CO-Q10 **ETC.
**PIONEER **SCIENTIFIC **LABORATORY MEDICAL STUDIES
**METHODS **CASE HISTORIES **PRODUCTS **SOURCES

0²XYGEN THERAPIES
HAVE BEEN USED TO TREAT THESE DISEASES.
THEY MAY NO LONGER BE AUTOMATIC DEATH SENTENCES!
NATURE'S OXYGEN, the one thing we can't live without. Not for long anyway. T
he less of it we have in our body cells, the worse our health becomes.
We can die slowly or quickly from lack of it.
SEDENTARY LIFESTYLES, poor food, lack of exercise, and shallow breathing of
polluted air are contributing factors that have created a chronic
"low oxygen" condition in out cells.
OUR METABOLISM, is a process of burning food for energy.
If attempted in a low oxygen environment, it's like trying to burn wet wood,
where something is always left over. Our cells accumulate unburnt, or unoxidized,
waste products that "plug up the works" and create fertile, swamp like,
breeding grounds for harmful viruses and microbes.
HERE'S THE KEY. These viruses and microbes (like in flu, colds, AIDS, arterial plaque
& cancer cells), live best in low oxygen environments. They are anaerobic.
That means, raise the oxygen level around them, and they die!!!!!
Supply the cell environment with enough of nature's oxygen
and it finally "burns up" the waste product !!!!! Simple. Too simple?
Apparently, since there have been over 4000 articles in the available medical literature,
in the past 40 years, referring to the action of oxygen products of pathogens.
And, unlike some current disease treatments, when administered at proper levels,
and in the proper way, there have been very few side effects or toxicity reported,
other than temporary cleaning reactions.
Many alternative health treatments owe their effectiveness to oxygenation.
Nature has provided us with a simple energy transport, cleansing, and repair system.
O²XYGEN THERAPIES
A NEW WAY OF APPROACHING DISEASES REVEALS:
**current popular methods of increasing cellular oxygenation.
**Formulas, patents, and ongoing lab scientific & medical studies.
**Anecdotal & Medical case histories of former AIDS and other degenerative
disease victims, who were treated with oxygenation methods by health professionals,
and are now back at work, and viral free.
**Contacts: Names, addresses, methods and the current status of groups, products,
and companies all over the world, who are currently involved
with many different types of oxygenation therapies.
---
---
HERBS, The Magic Healers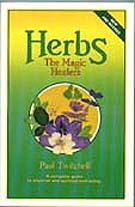 Author---Paul Twitchell

Herbs, the Magic Healers
Health and happiness means to be rid of fatigue and disease. To have a good appetite,
and memory, good humor, and precision in through and action.
To be free from anxiety and fear. To have great capacity for survival over illness
and anxieties. To make joy, long life, and great spiritual adventures.
HERBS: THE MAGIC HEALERS is the greatest source of knowledge available today
on the health of the physical, emotional, mental and spiritual bodies of man!
Since ancient times herbs have been used by medical practitioners and spiritual adepts
alike to soothe the anguish of body and soul. Among the proponents of such natural
organic foods were the great Masters of Echkankar, perhaps the first spiritual masters to
recognize that healthy bodies aided the concentration necessary to reach God-Realization.
Paul Twitchell, modern-day founder of the ancient teachings of Eckankar, tells you all
you need to know about herbs----their history, their curative powers, their legendary "magic." This writing is not confined to plants and their usage alone, however.
Twitchell reveals a vast amount of knowledge on a variety of subjects that relate,
directly or indirectly, to the well-being of the individual.
**key to longevity
**psychic dangers of drug abuse
**ideas to improve emotional and mental health
**spiritual healing through out-of-body movement
**various body types according to zodiacal signs
**health secrets of the lost continent of Atlantis
**mysterious brotherhood of the God-eaters
**and much more

---
---
FREEDOM from DISEASE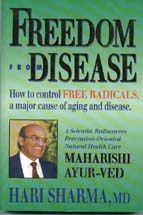 Author----Dr. Hari Sharma
HOW TO CONTROL FREE RADICALS A MAJOR CAUSE OF AGING AND DISEASE
MODERN RESEARCH INTO AGELESS WISDOM PROMISES A NEW AGE OF HEALTH
A century ago Louis Pasteur discovered that single-celled microbes cause infectious disease. Today, a more fundamental discovery is producing a medical revolution
that promises a new age of health.
The first part of this discovery concerns free radicals---destructive molecular sharks that tear up the cells in out bodies and cause both aging and disease. The second part concerns uniquely effective control of free radicals---through a prevention-oriented system of natural health care---Maharishi Ayur-Ved.
In Dr. Hari Sharma's new book, FREEDOM FROM DISEASE, find out how free radicals are implicated in everything from heart attacks to wrinkled skin, from cataracts to cancer. Learn how the body fights free radicals with its powerful enzyme army--how it desperately needs reinforcements--and why vitamins and drugs are far too weak to fill the gap.
Then follow Dr. Sharma as he conducts groundbreaking research that rediscovers
an ageless and normal health care system. Explore Dr. Sharma's research on a natural food supplement full of free radical fighters--an herbal dietary adjunct that defuses
free radicals 1000 times better than much-researched vitamins and drugs
---a natural free radical scavenger as powerful as the body's own enzymes.
Then comes the promise of a new age of health---new insurance studies showing
that people who control free radicals through Maharishi Ayur-Ved go to the hospital
for illness or surgery 80% less than the general population.
This is a book for everyone who wants to enjoy health and longevity.
For everyone who wants to take advantage of the latest medical breakthroughs.
For everyone who wants to grow towards freedom from disease.
A Scientist Rediscovers Prevention-Oriented Natural Health Care
In Dr. Hari Sharma's new book, FREEDOM FROM DISEASE, find out
how free radicals are implicated in everything from heart attacks to wrinkled skin,
from cataracts to cancer. Learn how the body fights free radicals with its
powerful enzyme army---how it desperately needs reinforcements
---and why vitamins and drugs are far too weak to fill the gap.
HARI SHARMA, MD
---
---

No Denial !
A Handbook for Becoming a Socially, Environmentally, and Personally Responsible Citizen of Planet Earth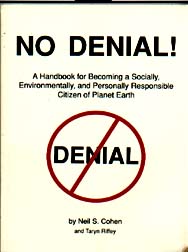 CONTENTS:
Introduction:
Love Comes First
Respecting The Earth As A Living Being
Animal Research In The Medical Field: Manipulation of Animal and Human
Common Products and Their Contribution to Animal Suffering
Other Commonly Exploited Animals
Dolphins and Whales Still Need our Support
Deforestation: If We Don't Take Action, It Won't Be An Issue Much Longer
Pesticides: What You Don't Know Can Hurt You!
Food Irradiation: An Indigestible Subject
Our Food Choices: A Critical responsibility
Vaccinations: The Dark Side Of The Point
Nuclear Power: Progress Or Folly
Electromagnetic Radiation: Invisible Yet Dangerous
Global Warning/ The Greenhouse Effect
Depletion Of The Ozone Layer
The Plastic Problem: A Modern-Day Problem
Recycling: A Major Solution For A Major Problem
The Benefits Of Using Recycled Paper Products
Dioxins In Common Paper Products
The Physical and Environmental Impact Of Smoking Cigarettes
Safe Alternatives For Toxic Household Products
What Goes Down (Into The Ground) Must Come Up (In Our Drinking Water)
Water Fluoridation: A Case Of Truth Decay
Conserving Water At Home
Overpopulation: An Overlooked Factor
Our Future: Moderation, Efficiency, And Renewable Energy Consumer
Ending World Hunger
Our Power, Our Voice: Becoming A Socially Responsible Consumer
Action And Support
Closing Words: It's Not "The End"
Excellent Resources For Further Information
---
---

ANTI - AGING MANUAL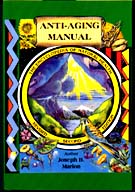 JOSEPH AUTHOR was born into a hard-working New England family that lived the
American dream of buying their own rural farm, and raising their family on f
resh home-grown food and vegetables.
At an early age, Joe learned the value of good education. He worked hard in studies
and athletics, and won a scholarship to the University of Pennsylvania, where Joe
earned his B.A. in economics at the Wharton School, became a brother and
steward in Phi Gamma Delta Fraternity, and trained with one of the best
rowing crews in the country under Ted Nash.
Since graduation from the University of Pennsylvania in 1972, Joseph has worked
in the natural foods industry. He is founder of Sunrise Training Company,
a superb natural foods retail store, as well as wholesale natural foods packer
and distributor to New England grocery stores and supermarkets,
still operating at 50 Marycrest Drive, Putnam, Connecticut 16260, with a walk-in
and mail order stock of ever 200 herbs and spices, nuts, dried fruits, grains,
pure juices, concentrates, body care products, whole foods, Vita-Min-Protein
supplements, and nutritional information.
Joseph Marion has dedicated almost 25 years of work in the natural foods
industry studing, researching and gathering information on purely natural healing
elements and techniques. This interest has resulted in the last nine years crafting
the Anti-Aging Manual, a 1500-page nutrition almanac, that is unsurpassed
for its clear, concise style and breadth, in organizing a sometimes complex
and misunderstood field of knowledge, but critical for healthy Immunity.
This manual is a practical study guide for successfully educating health professionals
and lay persons in the most effective applications of natural disease-prevention
and health care yet published. Everyone can use Marion's manual for optimal health.
This work pushes forward the frontier of knowledge and shows that, Yes,
the Great Spirit is in control, and has provided every element humans need
for vibrant health and consciousness here on planet Earth in an incredibly
balanced and unified system. All that people need to do is open their minds
to the endless power and grace provided by divinity through nature.
Joseph Marion has proven once again that every great accomplishment, through
once impossible, is really within the reach of human consciousness, whenever you realize it.

---
---
ALGAE to the RESCUE!!!!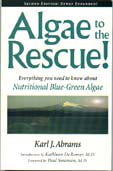 Author---Karl Abrams
You've heard about it from your neighbor, seen it on NBC and read about it in the New York Times!!!!
Isn't it time you found out about the most popular health food in America?
This is the ONLY book available that reveals the benefits on nutritional Blue-Green Algae. This Super Food is the biggest-selling, organic, unprocessed micronutrient in America.
THIS EXCITING AND INFORMATIVE BOOK DESCRIBES HOW......
Organic vitamin B12 promotes vitality and stimulates libido
Amino acids work wonders for mood improvement and inner calm
Neuropeptides enhance mental acuity
To lose weight effortlessly with branched-chain amino acids
Betacarotene provides the most powerful antioxidant shields
Minerals and trace minerals work synergistically to replenish electrolytes
for the heart and kidneys
To activate crucial enzymes that optimize all internal body functions
Enzymes promote proper digestion
Chlorophyll invigorates the body for unsurpassed performance
---
ESSENTIAL HERBS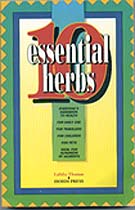 Author----Thomas, E.
FROM THE FOREWORD:
TEN ESSENTIAL HERBS gives plants personality and feeling. In clear and concise terms Lalitha takes the housework out of herbs. . . . The book is a reliable gem for consumers. . . . Botanical medicine in this country will benefit from this book for years to come. . . . .
LALITHA'S book has changed my thinking about herb books. TEN ESSENTIAL HERBS is the first I've seen that genuinely invites its readers into participation, rather than merely overwhelming them with data. Clear and personable.
LALITHA'S has avoided creating obstacles to gaining herbal knowledge by presenting only 10 very useful and very common plants in a clear, concise, and enjoyable way. The reader is given instant awareness and confidence. While there is information for the seasoned herbalist in TEN ESSENTIAL HERBS, the book's beauty lies in its ability to assist most everyone choosing to be more responsible for their own health.
There is not a more practical, complete, or user-friendly herb book on the market today. I have known Lalitha for over fifteen years as a sensitive and inspired herbalist. Having followed these guidelines in my own life and health practice, I can attest to the efficiency of all her approaches. TEN ESSENTIAL HERBS will be my gift to my students, clients, and friends. I recommend it as a gift to yourself.....
---
---
MIRACLE
CURES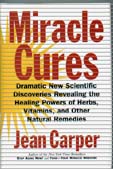 Author----Joan Carper
DRAMATIC NEW SCIENTIFIC DISCOVERIES REVEALING THE HEALING POWERS OF HERBS, VITAMINS, AND OTHER NATURAL REMEDIES
Here's the amazing truth: herbs, vitamins, and other natural remedies can cure you as well as --- or even better than --- potent drugs, and they are much safer.
These marvelous natural medicines can lower your cholesterol, open up your arteries, regulate your heart, relieve depression, overcome anxiety, fight sleep problems, regenerate your liver, restore your memory, heal arthritis, cure hay fever, shrink varicose veins, and treat the flu as well as dozens of other diseases.
In MIRACLE CURES Jean Carper, the best-selling author of STOP AGING NOW! AND FOOD -- YOUR MIRACLE MEDICINE, reveals for the first time how doctors in other countries routinely prescribe government sanctioned, scientifically tested natural remedies to treat illness and how millions of people have been cured by them.
Yet, as MIRACLE CURES makes strikingly clear, few Americans are aware of the fantastic healing powers of these remedies or that they are backed up by solid scientific evidence and decades of successful use. In this book you will learn of remarkable new research on natural medicines in both the United States and foreign countries and how you can find the remedies and use them effectively and safely to treat your own illnesses and those of people you care about.
A breakthrough book, MIRACLE CURES presents cutting-edge scientific evidence from the world's leading doctors and scientists, combined with awe-inspiring, first-person medically verified accounts of people who have successfully cured themselves with natural medicines. MIRACLE CURES documents the latest findings from leading scientific institutions, research centers, and major international scientific journals, including the Journal of the American Medical Associations and the British Medical Journal. From reports of the astonishing memory-boosting properties of ginkgo biloba and the amazing heart-energizing activity of coenzyme Q-10 to the powerful artery-cleansing action of grapefruit fiber, Carper's findings are presented in the same lively style that has earned her previous bestsellers such acclaim.
MIRACLE CURES makes a powerful case for why you should try natural remedies and tells you which ones promise the most dramatic success. Carper reveals how far behind the medical establishment and federal health regulatory systems are in acknowledging these safe, effective natural medicines that can relieve so much illness and save so many lives.
---
---
SHAHNAZ
HUSAIN'S
BEAUTY BOOK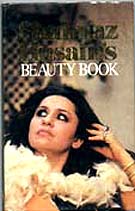 Author----
Shahnaz Husain
The uncrowned queen of India's beauty industry Shahnaz Husain is as exotic as her name.
Shahnaz Husain combines ancient herbal remedies with scientific techniques very effectively.
Shahnaz Husain is India's sacred goddess of
Beauty......
Jardin Desmondes, Paris, France
Shahnaz Husain is an Internationally recognized authority in Herbal Cosmetics. The crowds she drew were so phenomenal that---she was asked to stop the herbal demonstration for fear of roof collapse.
Shahnaz Husain is a name to reckon with. To her exclusively goes the credit of bringing the therapeutic values of herbs out of the mist of antiquity and combining them with scientific research and practice. Shahnaz Husain has done so much for India's image in the West that she has earned the sobriquet of the country's "Beauty ambassador"
What stuns you on your first meeting with Shahnaz Husain is not her personality but the spiritual charisma she exudes.
---
E-Mail us
Go to top of page
Go to Momentum98 home page
Submit Order Now!
---
KOMBUCHA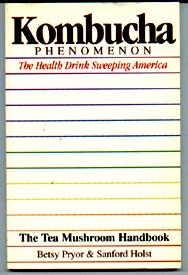 Author--Betsy Pryer & Sanford Holst
PHENOMENON
THE HEALTH DRINK SWEEPING AMERICA
The Tea Mushroom Handbook
KOMBUCHA: the incredible health sensation that's the talk of America---how you can use it safely to improve your health.
Find out why 3 million Americans (according to the New York Times) have started using Konbucha since 1993. Their experiences are nothing short of fantastic. And the next amazing experience may be yours. What is it, where did it come from, how is it made, how do you use it, who is using it? The answers are all here.
BETSY PRYOR is the recognized authority on Kombucha in the United States. Her personal experience in raising Kombucha and distributing it across the country has resulted in many appearances on television, radio, magazines and newspapers in cities and towns across America. In this book she works with veteran writer SANFORD HOLST to translate years of technical research into easy-to-read form.
"KOMBUCHA" "TEA" as it's called is causing quite a stir. The list of ailments it is purported to cure, according to its fans, is straggling: asthma, eczema, low energy, bad digestion. It clears up your skin, gets rid of wrinkles, and even turns hair ( or at least some of it) from gray back to its original color. There are even claims that it rebuilds AIDS-ravaged immune systems and mitigates symptoms of multiple sclerosis."
"The good will and community that have sprung up around Kombucha may be more potent than the tea's medicinal properties."
Whether you are curious about the Kombucha phenomenon or want to make pure, healthy Kombucha, this is the book you and your friends will refer to again and again.....
---
E-Mail us
Go to top of page
Go to Momentum98 home page
Submit Order Now!
---
MEDICINAL
MUSHROOMS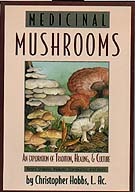 Author--- Christopher Hobbs
Medicinal Mushrooms is a modern handbook for exploring and understanding the rich traditions of healing fungi in Eastern and Western cultures. Author Christopher Hobbs thoroughly documents and details the nutritional and health benefits of over 100 species of edible fungi. Medicinal Mushrooms is the MOST complete work on the cultural, health-promoting, and medicinal uses of mushrooms EVER PUBLISHED!!!!
LEARN HOW MEDICINAL MUSHROOMS CAN
**Help prevent & treat cancer
**Benefit people with HIV/AIDS
**Assist people with heart disease
**Strengthen immune function
**Nourish eyes & digestion
**Heal skin ailments
PRAISE FOR MEDICNAL MUSHROOMS
For the Western herbalist, the subject of medicinal mushrooms has remained an arcane purview relegated to history, or if in a modern context, to relatively obscure references - mostly in Asian languages. Christopher Hobbs has opened new vistas in Western herbal literature, by providing a comprehensive, accessible, and scientifically accurate portrayal of the medicinal value of fungi. Medicinal Mushrooms is a portal into a fascinating, often neglected world.
Having enjoyed Christopher's excellent books on the higher plants, I take pleasure in stooping to the fungi to read his fact-loaded treatise on those 'lower' 'plants' we call mushrooms. Medicinal Mushrooms will no doubt be the important source book for those of us interested in edible and medicinal mushrooms.
Author Christopher Hobbs is a fourth generation herbalist and botanist with over 20 years experience. Hobbs writes and lectures internationally on herbal medicine. He is a consultant to the herb industry living and practicing in Santa Cruz, California....
---
E-Mail us
Go to top of page
Go to Momentum98 home page
Submit Order Now!
---
THE MASTER CLEANSER
with
SPECIAL NEEDS AND PROBLEMS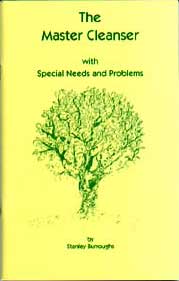 Author----Stanley Burroughs
To further expand your knowledge and eliminate your limitations.
Stanley Burroughs has perfected Color Therapy and The Vita Flex control system in a book entitled
"Healing For The Age Of Enlightenment"
To bring you hope
To bring you knowledge
To bring you the truth
I present this book so that you can help yourself and others. Make the most of this work and know that it is the finest of knowledge in healing.
"Let no man refuse to listen and be healed lest he bring misery, pain and suffering to those who look and depend on him for help and guidance."
For the novice and the advanced student alike, cleansing is basic for the elimination of every kind of disease. The purpose of this book is to simplify the cause and the correction of all disorders, regardless of the name or names. As we eliminate and correct one disease, we correct them all, for every disease is corrected by the same process of cleansing and building positive good health.
Man's mastery of disease will only be final when ignorance and fear are overcome by proper observance of all laws pertaining to the creation of bones, flesh and blood.
Through eons past and on even the present, man has been held and still remains in bondage of misery and suffering while witchcraft and quackery, whether licensed or not, have run the gamut of the healing field of mis-information.
At last the basic cause of disease is no longer a mystery. The basic cause is the habits of improper diet, inadequate exercise, negative mental attitudes, and lack of spiritual attunement which combine to produce toxic conditions and malfunction of our bodies. The elimination of the cause of illness is the obvious and only way to healing and health. The elimination of the habits that cause illness is done through the positive approach of developing proper habits that cause health combined with corrective techniques that remove the ill effects of our former incorrect ways.
---
E-Mail us
Go to top of page
Go to Momentum98 home page
Submit Order Now!
---
---
E-Mail us
Go to top of page
Go to Momentum98 home page
Submit Order Now!
---
KOMBUCHA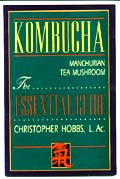 Author-----Christopher Hobbs, L. Ac.
MANCHURIAN TEA MUSHROOM
THE ESSENTIAL GUIDE
The only accurate and up-to-date guide available!!!!!!
Kombucha is an ancient association of bacteria and yeasts that form a thick rubbery skin made of cellulose. It is also known as "mother of vinegar" a term used since ancient times, and "Nata" a desert delicacy in the Philippines.
This practical and concise guide contains a wealth of information and answers commonly asked questions such as:
**Does Kombucha have beneficial medical effects?
**Can it help fight cancer, AIDS, and other diseases?
**What are the traditions and history of Kombucha?
**How do you make tea from Kombucha?
**Where do the bacteria and yeasts in Kombucha come from?
**Is Kombucha safe?
---
E-Mail us
Go to top of page
Go to Momentum98 home page
Submit Order Now!
---
ELIXIR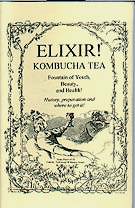 Author----Danny Bravin
KOMBUCHA TEA
FOUNTAIN of YOUTH, BEAUTY, and HEALTH!!!!!
Hello, my name is Danny Bravin. During the Vietnam war I was a fresh-faced young G.I. working in Army hospitals attending the wounded, the broken and the sick. After the was and in the years that followed I moved to California to continue my work in the alternative health business. I worked for St. Genevieve Medical Group in Gardena California and for years had my own clinics in Redondo Beach and the San Fernando Valley.
In these past years, I met some incredible people. People of beauty, people of strength, and people with winged minds. I also met the afflicted, the hurtful and the suffering and I can tell you quite categorically that there is hell and it's right here on Earth!!!!
Hell is living in a wheel chair, being dependent on others for the most fundamental of functions, and feeling yourself becoming more bitter, more brittle, and more dry. Hell is being too weak to go to the bathroom.
Hell is having a hard time walking, standing, talking, and breathing. Hell is "learning to live with pain". Hell is watching your body being destroyed with drugs, surgery and radiation as you slowly disintegrate and waste away.
GOOD NEWS:
There's overwhelming evidence that suffering and diseases, especially the ones associated with advancing age are, for the most part, preventable. Prevention is more effective with the root causes are addressed early and a healthful program is integrated into daily living. A life style which includes common-sense nutrition, physical conditioning, emotional honesty and a psychological balance. That type of lifestyle will allow it's owner to live a long, healthy, productive and fulfilling life.
We do not know how long our journey on earth will be. We can make sure, however, that however long we do have, we will remain strong, lucid, loose, pain-free, juicy, sensuous, sexy, smooth and radiantly healthy.
History, preparation and where to get it!
This amazing book will reveal to you the origin, history, abundant benefits, where to get it, and how to brew the tea yourself.
---
E-Mail us
Go to top of page
Go to Momentum98 home page
Submit Order Now!
---
THE ESSENTIAL FLOWER ESSENCE
HANDBOOK
REMEDIES FOR INNER WELL-BEING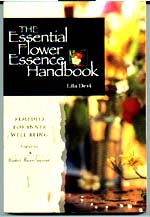 Author----Lila Devi
In THE ESSENTIAL FLOWER ESSENCE HANDBOOK, Lila Devi unlocks an exciting new "language of flower essences" never before chronicled. This fresh and uplifting approach treats vibrational flower therapy as both an art and a science. Since founding the Master's Flower Essences in 1977, Lila has been a flower essence researcher, practitioner, lecturer and seminar leader. This is the full comprehensive guidebook for the 20 Master's Flower Essences, offering new terminology for the layperson and seasoned practitioner alike. The Essential Flower Essence Handbook is lush, exotic, humorous and warm. It can assist you, and others through you, in the ultimate quest for wholeness, joy and transcendence.
In-depth compilation of the Master's Flower Essences including charts, illustrations and practical text, based upon 20 years of case histories, testimonials and research.
New vocabulary making essences more accessible and understandable than ever: theme and plot, symptom and core.
Easy-to-use Cross-Reference Essence Index.
This wonderful book magically reveals the secret healing power of flowers. Filled with fascinating stories. The Essential Flower Essence Handbook is an enjoyable and thought-provoking read.
---
E-Mail us
Go to top of page
Go to Momentum98 home page
Submit Order Now!
---
STARLIGHT ELIXIRS & COSMIC
VIBRATIONAL HEALING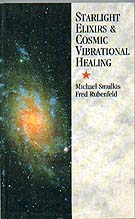 Author---Michael Smulkis/Fred Rubenfeld
How do the stars influence our lives? What is this larger system of knowledge of which astrology is only a small part? How can we work with these energies through meditation or by taking a Starlight Elixir? What are Starlight Elixirs? How are they made? Can they provide a break-through for our individual and collective consciousness?
The authors recount the properties od the brighter stars and distant space objects that are visible in both the Northern and Southern Hemispheres. They describe how these energies are broadcast and how they are able to reach us across such great distances with such speed. They believe that now is the time for this information to be revealed in order to accelerate the capacity for Earth and her inhabitants to be united and to take their place amongst the rest of their larger Universal family. As it was during the times of Atlanitis and Lemuria we can once again be aware of our connections to the Cosmos.
---
E-Mail us
Go to top of page
Go to Momentum98 home page
Submit Order Now!
---
Gattefosse's Aromatherapy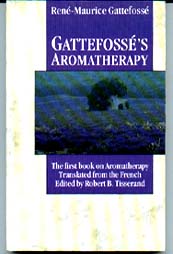 Author----Rene-Maurice Gattefosse
The first book on Aromatherapy Translated from the French
Here is the missing link to Essential Oil literature, the first modern work written by the man who
coined the word "Aromatherapy"
In July 1910 Rene-Maurice Gattefosse discovered the healing properties of lavender oil after severely burning his hands in a laboratory explosion. This led him into a life-time of research into Essential Oils.
His remarkable book was first published in 1937 and has been out of print for many years. Now translated, it has been edited by Robert Tisserand, author of three books on aromatherapy (including the best-seller, The Art of Aromatherapy), editorial adviser to the Journal of Alternative and Complementary Medicine and editor of The International Journal of Aromatherapy.
The book is a fascinating blend of ancient and modern knowledge and Aromatherapist will find it an essential tool of reference. Extensive notes are provided by Robert Tisserand at the back of the book.
Chapters include those on human smells and animals smells, toxicity, the properties of essential oils and their constituents, the treatment of many diseases, and over fifty case studies from doctors.
Aromatherapists will recognize the source of many facts, and they will find much that is new and absorbing.
---
E-Mail us
Go to top of page
Go to Momentum98 home page
Submit Order Now!
---
MARGUERITE MAURY'S
GUIDE to AROMATHERAPY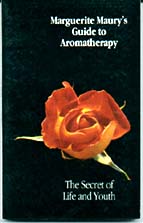 Author----Marguerite Maury
The SECRET of Life and Youth
Marguerite Maury's famous book, was first published in France in 1961 under the title, Le Capital 'Jeunesse' and was translated into English in 1964. The language is a little old-fashion now, but the message and the personality of the author come through quite clearly. In France, Marguerite Maury had single-handedly re-established the reputation of aromatherapy but in Britian only orthodox medicine was taken seriously and any alternative therapies were viewed with considerable skepticism. Her book, as a result, did not reach its maximum audience nor did it receive the credit it deserved.
Now, however, with aromatherapy so well established and so familiar to many, the book can be re-assessed as the valuable reference book it is. A gold-mine of research, it contains information on a vast number of topics - health, beauty, diet, cooking, herbs, essential oils and treatments.
It is a book which should be read and referred to by practitioners and students alike, as well as by those who benefit from the therapy...
---
E-Mail us
Go to top of page
Go to Momentum98 home page
Submit Order Now!
---
COMMON SENSE DIET AND HEALTH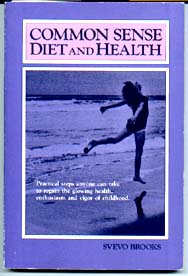 Author Svevo Brooks
Practical steps anyone can take to regain the glowing health, enthusiasm and vigor childhood.
Diet for a Small, Happy Stomach
Old Fashion Remedies for Modern Day Ailments
Mind over Medicine
The Art of Everyday Survival
FOR HEALTH AND HAPPINESS AT ANY AGE
TAKE DAILY AS DIRECTED
Upon rising do a few gentle stretching exercises, breathing deeply through the nose
Do some simple, practical things with our own hands. Work in the garden. Hang clothes on the line. Bake. Sew. Draw a picture for a friend.
Take a long, vigorous walk in the fresh air. Get to know flowers and trees, insects and animals, children and neighbors. Walk tall, in good posture.
Close your eyes. Relax. Take a nap. Give yourself a few minutes of complete relaxation every day.
Establish a harmonious rhythm of living. Go to bed before you are overtired. Rise before the sun gets too high in the sky. Avoid taking on more work or responsibility than you can comfortably handle.
Actively work to preserve the beauty of natural environment. Make the earth healthier for having trod upon it.
Think and act positively. Laughter, smiles, and kind words are powerful medicine. Feeling good is contagious. Infect other people with your own health and happiness.......
---
E-Mail us
Go to top of page
Go to Momentum98 home page
Submit Order Now!
---

CEREAL GRASS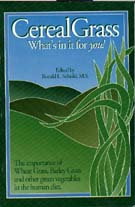 Author---Ronald L. Seibold
What's in it for you!
The importance of Wheat Grass, Barley Grass and other green vegetables in the human diet.
Here at last is the complete source of information on cereal grass. Included is a review of the research documenting why dark green vegetables are essential to the daily diet.
Cereal grasses are the young plants which grow to produce grains such as wheat and barley. Because they are such concentrated sources of betacarotene, chlorophyll, fiber, vitamins, minerals and other food factors, the demand for wheat grass and barley grass has increased dramatically in the last decade.
Here at last is the complete source of information on cereal grass.
Included is a review of the research documenting why dark green vegetables are essential to the daily diet......
---
E-Mail us
Go to top of page
Go to Momentum98 home page
Submit Order Now!
---
GROWING UP WITH
BACH FLOWER REMEDIES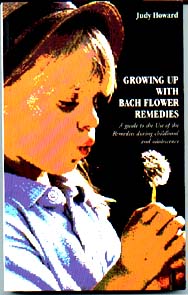 Author----Judy Howard
Bach Flower Remedies is a system of natural healing for the relief of negative attitudes and moods which not only hinder ones's enjoyment of life, but are regarded as contributory factors in the cause of physical and emotional suffering.
They were discovered during the 1930's by the late Dr. Edward Bach MB, BS, MRCS,LRCP, DPH, and eminent physician who devoted his life to the cause and cure of diseases.
The results of his life's work were 38 harmless remedies made from nonpoisonous plants and herbs of the countryside, each pertaining to aspects of human nature, personality and states of mind.
The Bach Flower Remedies have deservedly earned themselves a reputation of excellence and are now used extensively throughout the world.
Growing Up with Bach Flower Remedies shows how the system of healing can help babies, children and adolescents during the turbulent years of youth. The book takes, the reader all the stages of childhood, including developmental progress, illness, schooling, behavior, puberty, examinations and the various other milestones when emotional support is needed.
Growing Up with Bach Flower Remedies is a book designed for parents, teachers, nursery nurses, grand-parents and guardians - anyone who has an active interest in caring for children of all ages......
---
E-Mail us
Go to top of page
Go to Momentum98 home page
Submit Order Now!
---
IN LIGHT OF WOMAN'S HEALTH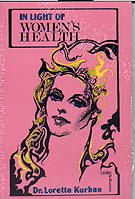 Author----Dr.Loretta Kurban
In light of WOMAN'S HEALTH is the result of Dr. Kurbans lifetime of dedication to her own and other women's health. Succinct chapter have diet, pregnancy, natural beauty, PMS, fertility and many areas relevant to a woman's life. Chapter on men's health issues included, too.
As a woman I have always been interested in how I felt. Not how my hair, skin or body looked......but how much could get accomplished that day. Over the years with 11 pregnancies and 7 children, it is amazing how many compliments are made on my flawless skin and beautiful, no gray, dark brown hair. My youngest child is 24.
In addition to the above, having lived and traveled in many countries of the world and having worked as an assistant or department head in many hospital areas gives rise to some of which are listed in this book. These are books that are used in my classes. The number of books was growing as were the research papers that are in my collection from over the past 25 years.
This book is written to condense that which is the most important from my own experience and from my research. This book is written for my students, my patients and for all women.....
Dr. Loretta Kurban
---
How To Purchase Items
Click the Add To Cart button beneath the product description to purchase the item. A shopping cart will appear on the right side of the screen. You can continue to add items from different pages on our site, then when you are ready to check out simply click on the cart icon, and click Checkout.


Contact Momentum98.com to purchase any item that does not have an Add To Cart button. You can purchase the item by email at

moment98@gmail.com

or by telephone at

614-262-7087

.


Read our terms and conditions of sale.