FOOT MASSAGERS
---
Select A Product:
---
---
ROLLIEVER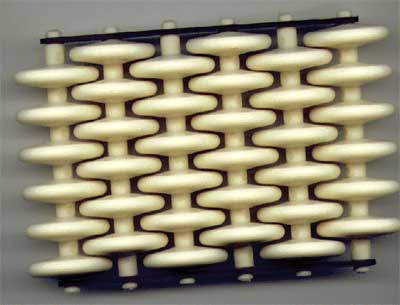 MAS817 - Original Ivory Rollers
MAS818 - Thin Brown Rollers

For tired, aching feet.
For the money, this is one of the best overall foot massagers you can buy.
It is made of hard plastic - that feels good on the foot. The very soothing action instantly relaxes the foot.
If you do the right foot first, your left foot is definitely gonna feel left out!
The secret... how to use it !
Start by isolating the toes, then move to the balls of the feet, the sides of the feet,
and then the right part of the heal, the central part of the heal, and then the left part of the heal,
you can get a really great massage.
A second secret...
By turning your Rolliever Foot Massager sideways, you can roll your arch instead of forward & backwards, sideways and back from sideways, and by doing so, you give your arch a great massage.
There's nothing like the Rolleiver, for tired, aching feet.
Or for feet that are healthy, that just want to feel super super healthy!
---
---
RELAX-A-ROLLER
The Reflex Foot Massager

MAS32
If you really love to have Foot Reflexology - here is a variation to do-it-yourself.
These hard plastic Relax-a-Rollers can do you in - wonderfully!
Relax-a-Roller is purported to be one of the only foot massagers that can actually trigger foot reflex points,
as discussed in the Science of Reflexology.
We agree it is great! It's not for the light-hearted.
Size: 12" long. Also comes 18" long with handles to roll on back, body, and also as a foot massager.

MAS33 - with handles
---
---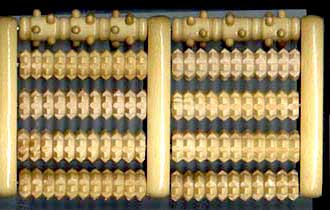 MAS996
Made of wood, with four rows of small spikes and one row of longer nodules.

The Deluxe Reflexology Foot Bed is a great massager!

It grooves well into the foot, and can be used by both feet at the same time, while sitting in a chair.
We give it a thumbs up!
---
---

MAS943 - Acc-U-Ssager with Removable Handle
AA Batteries Included
Limited Stock!
They say that the direct application of the
Acc-U-Ssager
to the hips back, abdomen, and pelvic areas can send soothing waves of calming relaxation. The effects can be relief from muscular pains and soreness,
relief from anxiety, and a feeling of greater overall well-being.

MAS941 - Acc-U-Ssager with no handle
AA Batteries Included
Limited Stock!
---
---
ROLL-O-FLEX
*Temporarily Discontinued*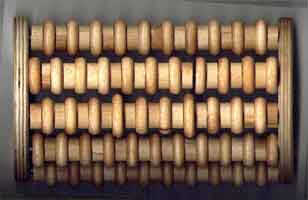 MAS58
The most unique total massager for the whole body.
Quality crafted hardwood construction.

It's not just a great Deluxe Foot Massager...

The Roll-o-Flex is also for for back rolling, scalp massage, headache relief (by resting on it),
for leg rolling and for foot rolling.
FOOTSIE ROLLER

Imitation Footsie Roller 9"
MAS271


Mini Footsie Roller 6"
MAS11


Double Footsie Roller 12"
MAS272
These are the perfect alternative to the Ma Footsie Roller:
the defined ridges are designed to relieve foot stress and provide profound satisfaction.
---
---
ACU-R FOOT MASSEURE
Healthy Kenpo® Foot Roller
Unavailable
MAS006
More than just a great foot massage!

Reflexology recognizes that there are point in the feet directly related to our human organs.
By stimulating the acupressure points, different vital functions may be stimulated to enhance
overall well-being.

Specially designed to:
-alleviate tired and sore feet
-stimulate Reflex points
-relieve stress
-help increase blood circulation
-re-energize

Premium quality ABS + PVC reflexology construction features hundreds of spiraling massage nodules
designed to effectively stimulate all major reflexology points.
---
---
Ueqiuche Magnetic Foot Massager
(the Ueqiuche !)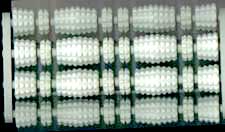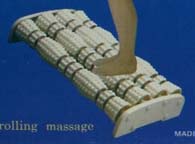 MAS263 - Ueqiuche Magnetic Foot Massager (about 7" x 11.5")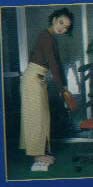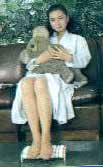 2 feet at once, sitting or standing ! (at your desk or in the living room)
The moon car wheel type rolling feet massager is a new portable device
that integrates magnetic treatment and massage.
You can massage your feet even while standing, and holding on to something.
You can also massage two feet at one time easily while sitting.
The Ueqiuche will hold up to 350 lbs if you are standing on it.
The massage wheels of the massager include magnetic pins.
When the massage wheels are rotated, they will continuously produce a pulse magnetic field
to benefit the health of the human body, without any electric power.
Pretty much one of the best foot massagers !
Yep, that's about it... The spiky points are effective, yet mild enough to give a nice soothing,
comfortable massage. Nice VERY STURDY unit. We highly recommend this foot massager
And actually, it is a feet massager, not just a foot massager.
It works very very well ! - Stays in one place.... doesn't move around !

MAS263 - $39.95 for 1, $34.95 each for 2 or more -
Ueqiuche Magnetic Foot Massager
---
---
Acu-Reflex Foot & Back Massager


MAS034 - Acu-Reflex Foot & Back Massager

Acu-Reflex Massager has non-allergenic rubber balls over a stainless steel rod - covered by brass bushings.
Comes in Blue (hard) or Lavender (soft) rubber balls.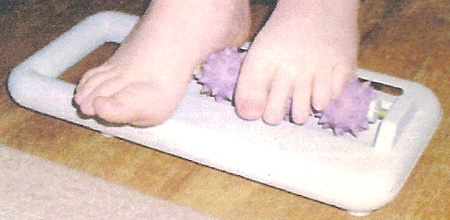 For your feet: Place one or both feet on the Acu-Reflex Massager. Roll them back and forth.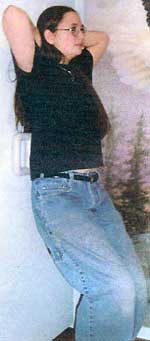 For your back: Hold the Acu-Reflex Massager between the wall and your back.
Bend the knee to move your body up and down.


or: You can place the Acu-Reflex Massager on the floor and lie down on top of it.
Massage by moving your body.

---
---
MAS12 - Actual size
Comes in a pair

Goose Bumps release stress by massaging muscles and by activating acupressure points
which send signals to relax to all parts of the body.
Light pressure may be necessary in sensitive areas, but strong pressure is recommended for most muscle tissues.
---
---
---
HEALTHY TOES

Your toes and feet will receive many of the same healthy benefits that your body does when performing stretches.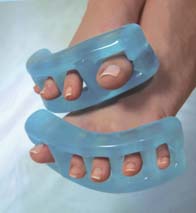 HTS003
(see colors variety in pricing table below)
Healthy Toes Revolutionizing Foot Care
The Healthytoes may help to:
Increasing balance, "sure-footed-ness," joint range, coordination.

Decreasing foot pain

Restoring the natural vibrancy and bounce of healthy athletic feet

Correcting bone/tissue/cartilage misalignments

Detoxification

Improving posture, foot reaction time, stamina

Much much more…
see our HealthyToes page