NUTREX HAWAIIAN
SPIRULINA
---
A note from Phil Wilson
Owner of Momentum98

Go to my History of Algae in America Page

The intent of the article on The History of Algae in America (including spirulina) is not to impress you with what it has scientifically been proven to do - because others have done that and admirably well. Rather, the purpose of this article is to inspire you, to excite your imagination, to get you to jump into the world of algae eaters with enthusiasm. Of course, one has to try the product first before one truly becomes inspired. I personally eat all of these algae as one might eat candy, nuts, seeds, or something of the like.

Spirulina has become a staple in many supplements ever since in early 1980s, as it is so rich in beta carotene, other nutrients, and protein. It is very fulfilling as it sustains us with nutrients, hence quenching our hunger. It's especially great for vegetarians...

The spirulina flakes are great for adding to smoothies, and the tablets are great for chewing (unless you don't like green teeth - in that case, you better swallow).
Combine with other Foods...

Mixed with other foods, spirulina flakes (or powder) can add many nutrients to your diet. Add it to popcorn, eggs, soups, brown rice dishes, dog food, pasta, or use your imagination. Adding Spirulina to any food can increase its flavor, nutrient value & balance.

Spirulina tastes good !

I've even been know to drink (it) while driving - (spirulina flakes, that is.) Spirulina is so rich in protein that if you were to drink some flakes, or powder, or chew on some tablets, you might find that you get
a cheesy kind of feeling in your mouth. What is a cheesy feeling ?Well it's sort of a protein feeling, the same kind of feeling one gets when one also eats a nut very high in protein, such as the pignolia (pine nut), the black walnut, or the macadamia nut. If you are into protein powder, and have ingested large
amounts of protein powder one also gets that "cheesy" kind of feeling. That's protein, and when you eat it, you eventually stop, because its very fulfilling.
---
---
ORGANIC
SPIRULINA PACIFICA
TABLETS
NUT01 - 100 tabs
NUT02 - 200 tabs
NUT020 - 400 tabs


POWDER
NUT06 - 5 oz
NUT065 - 16 oz


CRYSTAL FLAKES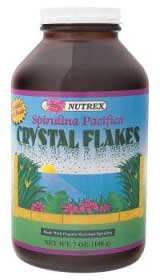 CRYSTAL FLAKES
NUT17 - 7 oz
All the goodness of All Natural Hawaiian Spirulina without the dustiness or clumping of powder.

Crystal Flakes are perfect for smoothies; sprinkling on salads, pasta, rice, popcorn; or as a nutritious addition to guacamole, soups and sauces. From the Kona Coast of Hawaii comes naturally grown Hawaiian Spirulina, supplemented with GMO-Free soy lecithin, and quickly dried at low temperatures to create our unique and natural Crystal Flakes.
---
ABOUT
NUTREX SPIRULINA
Certified Organic / Pesticide free
No chemical fertilizers are used.
Nutrex is activley involved in worldwide organizations which promote sustainable organic agriculture.

Unique Spirulina Pacifica strain evolved in Hawaiian sun
Kona, Hawaii is the sunniest coastal location in the US.
Hawaii's intense sunshine promotes an abundance of phytonutrients.
Thousands of generations of Spiruliina in Hawaii have given birth to a unique,
beat carotene-rich strain known as Spirulina Pacifica.

Ocean Source Minerals and Trace Elements
From a depth of 2000 feet, they bring ultra pure ocean water up and feed it directly to their ponds.
This vital resource provides a rich mixture of calcium, magnesium and trace elements -
92 different minerals in all.

Patented Ocean-Chill Drying
Ocean Chill Drying insures a superior carotene profile,
reducing by 80% the losses normally associated with drying.

Glass packaging - not plastic
Glass prevents oxygen of key nutrients.
(#2 plastic readily leaks oxygen)
Glass prevents the impairment of the fresh Spirulina taste &
the destruction of key antioxidant nutrients like beta carotene caused by oxidation.
---
---
---
---