INFORMATION
PIEZO STIMULATORS

NEEDLESS QUARTZ CRYSTAL ACUPUNCTURE DEVICE
---
---
Q. What causes the electrical stimulation?
A. The massager operates on the piezo electric principle in which a current of perhaps to a crystal stone. The flow from the massager is about 6 millionths of an ampere at 18,000 volts for 12 millionths of a second. Such electricity is harmless to the body.
Q. Can treatments be given through a layer of clothing?
A. Yes, but the stimulation is less strong. Applying the piezo device directly to the skin is better.
Q. For what parts of the body is the Piezo device most effective?
A. It is most effective for disorders of joints such as the knee, elbow or ankle.
Q. Is using the piezo stimulator safe for pregnant women and people with pacemakers?
A. As a precaution, people with such conditions should not use the piezo stimulator.
Q. When you give a treatment to someone else and touch them on the shoulder or another part of their body, you get strong electric shock, Is this OK?
A. The voltage is safe, static electricity. If you are edgy about getting a shock during a treatment with the piezo device, you should avoid letting your free hand come in contact with the other person.
Q. Does using the piezo device have and side effects?
A. No, none. After a lengthy treatment, you may feel weary or listless the next day. This is a sign that your body's self-healing power is working to restore your original health. It need not worry you as long as you do not engage in strenuous exercise. Persons with sensitive skin may experience (this is very rare) some reddening or a rash, but this will clear up in two or three days.
Q. At some points on my body I cannot feel the massager at all while at other points I can feel it strongly. Does this mean that something is wrong with my piezo?
A. No, nothing is wrong. The body's reaction varies, depending on the point where the massager is applied. When considerable treatment is needed, the first sensation may be dull because of a blockage in the flow of energy. As the treatment progresses and your health improves, you will feel the massager more.
Q. I am very sensitive to the electric spark created by the Piezo. How can I experience the benefits without my body reacting so much.
A. For the rare individual who is very sensitive to the electric charge of the piezo LT or the Piezo DX, we have the piezo junior, which produces a much more mild charge, which will give the same benefits. See below for picture.
---
---
Testimonials

I was very healthy and running every morning to train for a marathon. One day I felt mild pains in my knees and ankles. Eventually the pain got so bad that I had to stop running... My sister... told me...
actually makes pain disappear. I used it for five minutes each day for a couple of months. Five months later I started running, and will make the marathon.

W.T., 28, jogger

Since my car accident five years ago, I have suffered a dull pain in my knees every winter. I went to see my doctor, who did not help me. I happened to meet a friend who told me about an instrument which looks like a flashlight. I used it. My pain started to fade away immediately and disappeared completely within a few months.

S.B., 38, lawyer

For about three years I had a perpetual headache and shoulder pains.
Then I came across [the Piezo]... After I used it for only 10 minutes a day for a week,
my pains went away completely. I was amazed. Now I use the massager only when my shoulders need it.

C.A., 32, secretary

I do a lot of physical work such as carrying heavy materials and painting walls.
I always felt pains in my arms. Sometimes I was so sore that I could not
raise my arms above my shoulders. This was really annoying. I... bought one and used it.
Now I can raise my arms all the way, and my shoulders are not stiff either.

J.H., 34, carpenter

I went to India where I lost my voice because of the intense heat and from
eating unfamiliar foods. After I returned home, my situation did not seem
to improve despite my seeing doctors at different hospitals and clinics.
I had an Oriental friend who was an acupuncturist.
I never trusted this kind of therapy, but I decided to take a chance.
To my surprise, my friend used a stimulator instead of needles.
After the first treatment, half my voice returned, and after three treatments, 80 percent.
Now I have a normal voice again. I still cannot believe what my friend did for me.

D.S., 63, retiree
---
---
THE SCIENCE
BEHIND THE PIEZO

Combining Modern Technology with Acupuncture Therapy...
The Piezo works like Acupuncture - but without the needles! The Piezo devices were studied by many Japanese scientists and physicians who also studied bio-electricity (the close relationship between the human body and electricity). Faint but measurable amounts of electricity are produced by the heart, the brain, even by individual cells, as well as by muscular contraction.

Chinese acupuncture treatment is based on stimulating specific areas of the body with needles to generate electric current for relieving pain. The Piezo devices do the same thing without needles. Simply place the broad tip of the Piezo LT or the Piezo DX on the sensitive area and press a button (at the top) several times. With each press, your nervous system is stimulated - as with acupuncture - to help relieve aching muscles. No batteries or AC current is needed. The Piezo devices use electric-pressure sparking (like that used in electronic lighters) to create a low electronic pulse that's painless, yet effective.

It stands to reason that stimulation by weak voltaic current is most fundamental and effective for everyday life activity and Chinese acupuncture treatment is based on this principle. Upon physical stimulations like piercing with needles, bio-electrical charge can be stimulated areas and electric current will be generated. Using this method, various diseases like low back pain, numbness and stiff shoulders could be cured. All those medical electronics are based on the electric current principle.
One can use the Piezo LT or the Piezo DX, or the Piezo Jr. for stiff shoulders, neuralgia, headaches, stress, insomnia, joint-pain or tennis elbow, as well as any other conditions of dis-ease of the body.
The invention of the Piezo...
For nearly 15 years a Japanese Medical Doctor, Dr. Takeyoshi Yamaguchi, studied the close relationship between electricity and the human body as part of his interest in combining ancient Oriental medical practices with modern Western medical techniques. The result was the invention of the Piezo.

Within three years of the introduction of this Piezo in Japan, 8,000 units are sold each month. Many users in Japan are chiropractors and medical doctors.
According to Dr. Takeyoshi Yamaguchi, electricity is produced throughout the body from organs such as the heart, the brain and each individual cell. The body also generates voltaic current by muscular contraction and neural stimulation. Such current is utilized for electrocardiogram and brain-wave tests. This phenomenon is called bioelectricity. Bioelectricity is so faint that you can hardly feel it. Nevertheless, it plays a very important role in maintaining human life.
Chinese Acupuncture treatment is based on the principles that diseases are caused
by the wrong circulation of energy, and the the stimulation of weak voltaic current
is fundamental and effective for everyday life.
It is claimed that piercing with needles can generate such current and cure pain
in the lower back, numbness, stiff shoulders, and other problems.
These two principles are the mother & father of the Piezo needless acupuncture device.

The thirteen meridians within the human body...
Acupuncture meridians are such that if they are in balance, and they are then triggered - nothing happens. When they are out of balance, (either too hyper or too sluggish), that triggering can then create a change and balance that meridian's energy.

The purpose of the Piezo is to normalize the acupuncture meridians. If the meridian energy flow is sluggish, the Piezo will be a catalyst to speed it up, and if the energy flow in the meridian is too hyper, the Piezo can slow it down. The goal is to have the flow of 'energy' of each meridian in the body be in a state of balance. When this is not the case, according to Chinese Acupuncture theory, then their is "Dis-Ease" in the body.
For certain spots on the body, chiropractors find that piezo massager is more effective than regular massaging. Medical doctors use it to treat stiff shoulders, tiredness, sleeping problems and what they call "diseases with no name."
The Piezo Device is easy to use and never causes any pain. All you have to do is place the face of the instrument on an area to be treated and press the push button on the opposite end 6 to 12 times for the area. Each time you press, they say that your nervous system is stimulated and the aches in your muscles are relieved.
---
---
MAS411 - Deluxe Model
(with Chrome Ring)

MAS410 - Lite Model

Both of these models are exactly the same, except for the Chrome Ring on the Deluxe model,
(which makes it feel heavier & look nicer). They have the same output of electrical charge.
PIEZO ACU-POINT STIMULATOR
** ALTERNATIVE FOR PIEZO JUNIOR **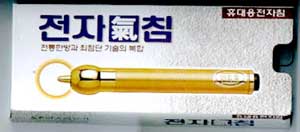 MAS495 - Includes carry case and extra battery
For a more mild, gentler stimulation...

The Piezo Acu-Point Stimulator is more gentle than the Piezo Lite and the Piezo Deluxe, with about two-thirds the strength.
---
---