VIDEOS & BOOKS ABOUT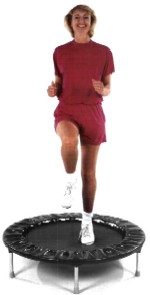 ---
BOOKS
ON REBOUNDING
BK302D
Rebounding to Better Health
by Linda Brooks

BK302C
The Olympic Trainer
by Harry and Sara Snyder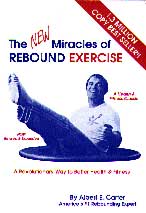 The Classic Book on Rebound Exercise
by Al Carter
OUT OF PRINT
---
---
VIDEOS & DVDS
ON REBOUNDING
---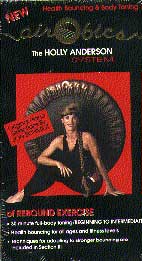 Air-O-Bics VHS
Air-O-Bics Phase II VHS
by Holly Anderson
TEMPORARILY UNAVAILABLE

The Holly Anderson System of Rebound Exercise is a 30 minute full-body toning for beginners and intermediate. She introduces health bouncing for all ages and fitness levels (techniques for adapting to stronger bouncing are included in Section III ).
Holly Anderson brings to the public a new approach to an old idea. Her own victory over debilitating injuries, using rebound activity, prompted the development of Air-O-Bics.
At 37 years of age, Holly is excited to share this discovery. Rebound exercise can be used for life.
Simple motion and one-on-one instruction makes it easy to follow.
American Fitness Magazine's review sparkled with accolades of this video, "What our reviewers found encouraging about Holly Anderson's program is the level-headed progressive and carefully monitored approach... her 30 minute program is an excellent avenue for the novice rebounder."
---
---

Picture coming soon


Bounce Before You Jump:
An Introduction to Rebound Movement
With Linda Brooks
BK302F - VHS

This informative video is designed to help you create routines that fit your needs and enjoyment.
Linda ties the moves together at the end with three short workouts -
one for beginners, one for intermediate, and one for advanced students. You can get more effectiveness & enjoyment out of your rebound experiences
now with the help of this unique and timely video.

* how to stand on the rebounder

* proper rebound posture
how to bounce, jump & do aerobic
* moves safely and effectively
* when to utilize each move
* how & when to combine the moves
* rebounding for therapy, weight loss. seniors, sports and aerobics
* how to use the stabilizer bar effectively.
---
---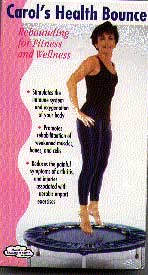 Carol's Health Bounce
by Carol Brophy

BK302G - VHS
BK302Z - DVD
This is avery different video for a healthy alternative in exercise rebounding. It was developed by an actress/flight attendant who credits rebounding for reducing her own symptoms of arthritis fibromayalgia and chronic fatigue syndrome by 90%.

Video includes:

* An interview with 2 doctors and Carol on the benefits of rebounding

* 4-minute Health Bounce for beginners (warm up for workout)
(The health bounce is a very light, effortless bounce designed to help stimulate the lymphatic and circulatory systems, and to increase muscular-skeletal strength & co-ordination.) Doing the Health Bounce only can strengthen every muscle bone & cell in your body.

* A 12 minute high energy aerobic workout (3 4-minute routines)
(This is a progressive workout designed to eliminate high cholesterol, body fat, degenerative bone disease and injuries associated with aerobic impact exercises.)

* A 4-minute Health Bounce to cool down.
---
---
Champion Rebounding
Hosted by fitness expert Jerry James

BK302M - VHS

Champion Rebounding for Kids
Hosted by fitness expert Jerry James

BK302P - VHS

A full hour program of high energy aerobic and kick boxing movies!
A person who becomes the best that he or she can be!
Jerry's skills and techniques as a natural boxing champion, a martial artist and a law enforcement officer into this Champion Rebounding workout. He has dedicated his life to building champions of all ages. Jerry didn't invent rebounding; however, he did perfect it!
Jerry James builds Champions out of ordinary people!
Are you ready for a dynamic, low impact, high intensity workout that will make you feel more energized than you've ever felt before? Well, here you go!!!!' You are now holding in your hand the premier exercise program in the USA today. If you're not serious about staying in shape, put this tape down and go back to the ice cream shop. However if you want the best workout of your life, time after time, purchase this video and start becoming a champion today.
---
---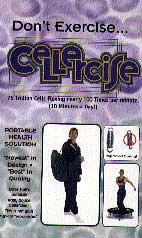 Don't Exercise - Cellercise!
by David Hall
TEMPORARILY UNAVAILABLE

David Hall demonstrates in this video his 10 minute rebounding complete program.

In This Video, David Hall talks about the:
Health (baby) Bounce, Aerobic Bounce, Calesthenics bounce, & Mighty Bounce.
The health bounce:
reduce water retention - massage entire body - strengthen cells - revitalize vision, balance & memory - reduce stress - stimulate lymphatic circulation/drainage - improve circulation - break up blockages - strengthen connective tissues

The aerobic bounce:
Improve bone/joint health without jarring - Tone muscles & skin - Strengthen stomach muscles, arms & shoulders - Improve Digestion - Improve Athletics (golf swing, tennis, etc.) - Oxygenate the body - Loosen back - Tone hips and waist - Strengthen heart & collateral muscles - Burn calories - Lose Weight - Strengthen bones.

The Calesthenics Bounce:
Strengthen Lower and Upper Abs - Tighten under chin - Improve Hip flexibility - Reduce/eliminate love handles - Loosen Backtone Inner/outer thigh - Strengthen back - Tone Buttocks.

The Mighty Bounce (Isometric - Isotonic)
Strengthen: Knees, Buttocks, Thighs, Bone Density, Muscle Mass, Stomach Muscles,
Back, Arms, Shoulders, Inner Thigh, Lateral Knee, Hips.

This is one of the most inspiring rebounding videos I have seen. It reminds me of the original Al Carter live demonstrations!
(Al Carter was the founder of modern reboundology.)This is a very active (mostly live) rebounding (OR cellercizing) demonstration, extremely educational, very funny at times & certainly enjoyable !

- Phil Wilson, Owner of Momentum98
---
---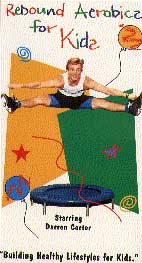 Rebounding Aerobics for Kids
starring Darren Carter
TEMPORARILY UNAVAILABLE

At the playground - a fun 8 minute rebound exercise segment.
Match This - 2nd set rebound aerobics courtside - 6 minutes kids luv.
In search of Pro-rebounder - Rebounder aerobics Poolside - 4 minute freestyle segment.
This kids' rebound exercise program is designed to improve:
Balance, coordination, rhythm, timing, dexterity, and
Kinetic Awareness while building Muscle bulk, Speed, and Strength.
---
---
Stay Fit Rebounding
with Sylvia Ortiz

BK302R - VHS

Rebound Beyond Aerobics
with Sylvia Ortiz

BK302T - VHS
Stay Fit Rebounding:

An ideal aerobic exercise program which provides Maximum Calorie Burning while strengthening the heart & entire body.
A 6 minute warm up stretch, 20 minute aerobic workout, 25 minute isometric & isolation exercises.
(Arms, waist, inner thighs, legs, hips, abdominals, & buttocks.)
Then a 4 minute cool down.
Rebound Beyond Aerobics:

Rebound Aerobics actually helps strength and repair tissue breakdown
that occurs naturally form all other sports activities.
28 minutes of Rebound Aerobics warming up with rhythmic moves, increasing into an aerobic cardio segment and warm down.
---
---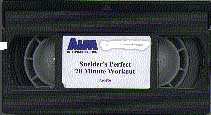 Snyder's Perfect 20 minute Workout
by the Author of the book Olympic Trainer

BK302B - VHS
BK302V - DVD

---
---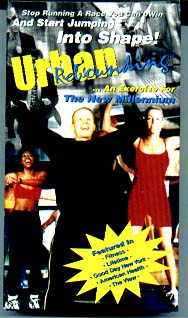 Urban Rebounding Video
with JB Berns

BK302U - VHS
Stop Running A Race You Can't Win and
Start Jumping INTO SHAPE:
An Exercise For The New Millennium
The new millennium provides us with an opportunity for change. It is an occasion to reflect on the necessity of engaging in a deeper and more integrated relationship between body and mind. The system known as Urban Rebounding brings together the science of the West and the philosophy and practically of the East, to form a holistic program of exercise in which people of all ages, sizes, shapes, and states of physical condition can participate.
"This is a workout like no other! I have been a fitness professional for over fifteen years, and JB Berns's Urban Rebounding is the best non-impact cardio-vascular workout that I have ever experienced. It's safe, effective, and most importantly fun!!! We have had the program at Crunch since September, 1998, and all classes are packed nationally."
"Urban Rebounding is the ultimate aerobic workout; full of energy and excitement and free if shock."
Dr. Art Ulene, Television's Medical Expert
"Urban Rebounding was the most fun I've had working out in a long time. It's a great anti-stress workout; it doesn't stress your joints and it does de-stress your mind. Best of all it's just pure fun, which is what you need in a workout, so you keep coming back for more."
Creator and owner of Urban Rebounding, JB Berns has been a Master teacher in the martial arts for fifteen years. To improve balance, coordination, and over-all wellness, he began rebounding in the early 1980's. After years of experimentation and study, the group fitness exercise system of Urban Rebounding was developed.
---
---