SEA BANDS

---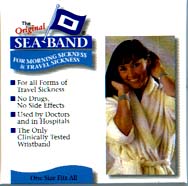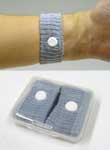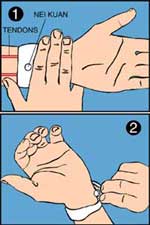 Sea Bands for Morning Sickness:
Sea Band has proven effective in clinical trials for the relief of Morning Sickness and because it doesn't use drugs,
there are no side effects.
Sea Bands for Travel Sickness:
Sea Band provides effective relief from all forms of Travel Sickness without causing drowsiness or other side effects.
Sea Bands for other sickness:
Sea Band has also been found to be effective in other conditions that produce nausea such as anesthesia and chemotherapy
and are used in hospitals throughout the world. The Sea Band operates by using acupressure.
The bands can be put onto your wrists before you start traveling, or after you have started your journey.
One of many testimonials that we have received:
Hi Phil - I've given your web address to a group going on a cruise in November, and none were aware of Sea Bands... all now are, and will be ordering. I told my pregnant niece about them for her morning sickness, and she got immediate relief. She also gets vertigo occasionally, and they work for that too! More people should know the diversity of these little things. Again, thanks for alerting me, and I will be ordering again soon.

Sincerely,
D. L., Massachusetts
A Note From Phil Wilson
Owner of Momentum98
Sea Bands are for people who like to travel, but who have problems with nausea, etc.
Certain acupuncture points when pressed can alleviate that problem.
By constantly hold down a particular point on the acupressure meridians,
the pain or discomfort can immediately go away or simply disappear.

Click to learn more about Acupressure

The dilemma is that we can't apply consist pressure on certain points! After all, we need our hands for all the time. Well, some brilliant Englishman came up with the Sea Band... and they work!

We also recommend using Ginger for travel sickness, as it complements the healing of the Sea Bands.

For traveling, also try: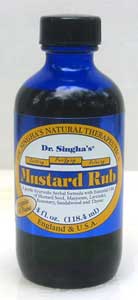 MUD08 - Dr. Singha's Travel Tonic - 1 fl oz
Dr. Singha's Travel Tonic is currently featured in American Airlines magazine, "American Way" as a 'magic potion' to help win the battle against jet lag. Travel often brings on various forms of stress caused by poor eating, disrupted sleep patterns, high speeds and general apprehension. This great travel buddy can help you arrive calm and collected instead of tense and fatigued.

Contains Organic extracts of Ginger Root, Eleuthero Root (formerly known as Siberian Ginseng), Lemon Peel, Sheep Sorrel, and Wild Harvested Yohimbe Bark in a base of Organic Grain Alcohol and Distilled Water.

Also, check out:

The Bach Travel Relaxation Kit
Go to the main Bach Page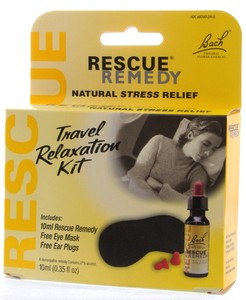 BAC91 - Travel Relaxation Kit includes:
10ml Rescue Remedy, Eye Mask, and Ear Plugs
---
---
SEA BANDS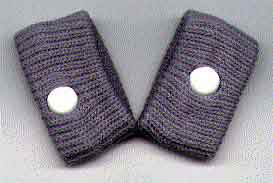 SEA01 - Sea Bands - Adult


2 Sea Bands come in each box,
1 band for each wrist.
---
---
TRAVEL-EZE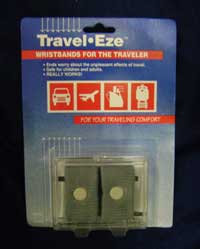 SEA23 - 1 Pair
These look and work exactly like Sea-Bands (they are basically a knock-off). The only difference is that they cost less!
One size fits all, available in gray.


Medicmates


Acupressure Anti-Headache Pain Band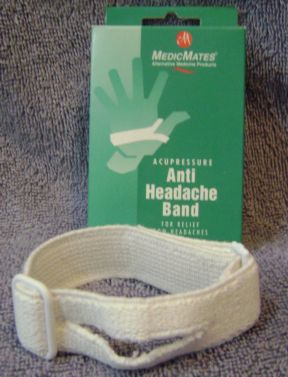 MMT01
MedicMates anti-headache bands are specially designed adjustable bracelets with an attached anatomically designed button. They are best worn as a preventative device. However, the anti-headache bands will also be effective if worn after the symptoms have occurred. The anti-headache bands are the best for treating migraines and headaches, put it on as soon as symptoms occur.

Acupressure Anti-Menstrual Pain Band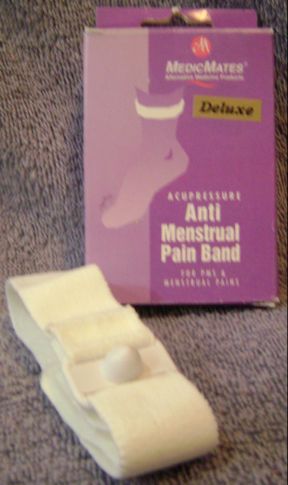 MMT02
MedicMate anti-menstrual bands are specially designed adjustable bands with an attached anatomically designed button. They are best worn as a preventative device. However, the anti-menstrual cramp band is effective if worn after the symptoms have occurred. In addition, you may wish to try it for the symptoms of PMS (Pre-Menstrual Syndrome).
Acupressure Sleep Aid Band
MMT03
MedicMate sleep-aid band is a specially designed adjustable band with an attached, anatomically designed button. Place the sleep-aid band on your wrist at any time prior to napping or sleeping. Warning: Never wear the sleep-aid band while driving or operating machinery.


Wearing two bands at once, one on each arm, is the recommended method for best results.



---
---