---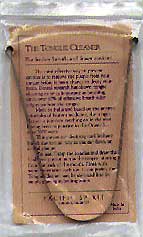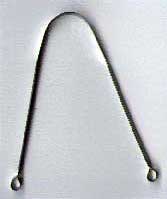 The Original Tongue Cleaner, packaged & unpackaged.
The History of Tongue Cleaners in America:

I was shocked to hear in the late 1980s that almost everyone in India uses tongue cleaners.
They approach tongue cleaning there the way we approach toothbrushes in the U.S. -
multiple daily use.
Tongue Cleaners were first introduced to the United States (a large scale) in the late 1980s,
when a few progressive companies started marketing them.
We started selling them at that time.
Two decades later, we are still selling the same stainless steal Tongue Cleaners.
Tongue Cleaners promoted on TV

Recently, a number of daytime talk shows have been promoting the Tongue Cleaners.
The word is spreading that there are certain bacteria that simply
cannot be reached by the toothbrush, or even by mouthwashes.
The most efficient way to clean the back part of the tongue
is to use a stainless steal Tongue Cleaner.
Needless to say, the demand for Tongue Cleaners has increased.
It's actually a matter of educating the public about this practice.
Tongue Cleaners are on their way to becoming household signatures, as they should be.

Why Stainless Steel Tongue Cleaners ?

Why do they use stainless steel equipment in hospitals ?
Stainless Steel is the most hygienic form of tongue cleaner or scraper that you can find.
Stainless steel is easy to clean and almost indestructible.
Because they're hygienic, you do not have to throw it away after a few months.
They also don't wear out, and therefore last long time.

They also work better than other kinds.
Their sleek design creates no discomfort with use.