THE WORLD'S THINNEST WALLET
"ALL-ETT"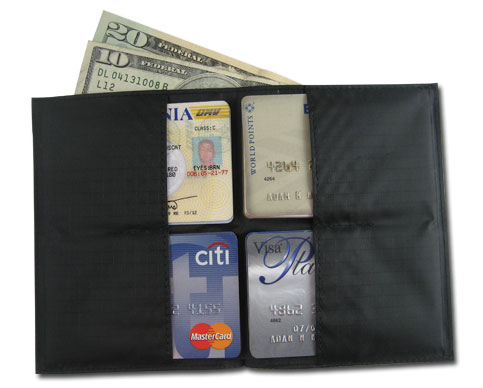 WAL01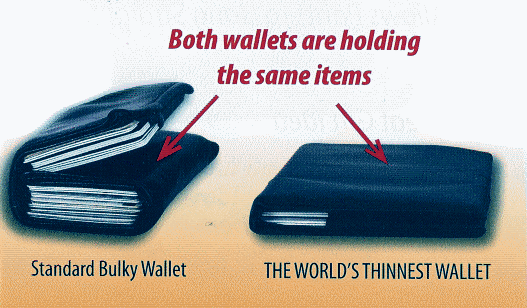 Great Gift Idea!
All-Ett
Billfolds is the creator of not only the amazing "World's Thinnest Wallet,"
but it is also eco-friendly! Made out of spinnaker cloth, (same material sail boat sails are made of)
this paper thin wallet is extremely durable.
A lot of men suffer from sciatic nerve damage and lower back pain caused by sitting on a bulky wallet.
ALL-ETT Billfolds has come up with a way to not only end back pain, but to be environmentally responsible as well.
Buying green is important, but the functionality of the product has to measure up.
The All-Ett wallet is water and sweat resistant, washable and 100% recyclable.
You can buy the Original wallet for under $20 and it will outlast your average wallet by years.
The problem with most wallets is the design and the material used. All-Ett has changed both of those aspects,
allowing space for all the items you need, while making the most comfortable wallet to carry.
The design of the wallet is a patented side by side design; rather than stacking the cards in a pyramid shape
and adding all that unnecessary material, All-ett lays the cards out right on top of one another.
There is plenty of space for cash, pictures, receipts, and business cards.
The transition from that bulky wallet to a sleek, thin and comfortable wallet is truly amazing.
Chiropractor recommended:
I have been recommending the ALL_ETT wallets for a number of years now to my patients who routinely
carry wallets that are much too thick thereby creating a spinal imbalance that can lead to chronic back conditions.
These wallets are well designed, strong, and an afordable solution to sitting on a bulky wallet.
Dr.Ken Greenburg, D.C.
S.D. Chiropractic

Comfortabled to sit on.
Just wanted to thank you for your excellent product. I recently purchased a European billfold to replace my very old,
very thick trifold leather wallet. I am 28 years old but have daily lower back pain.
After carrying this wallet for few weeks I can feel some improvement in my back pain especially after long trips.
I am very impressed with the material and build quality of my new European wallet.
Thanks again, Jim Coury
SW Pensylvania.